The happiness you get after buying an original Rolex watch worth 10 Lacs, do you get the same after wearing an identical duplicate? Surely costs much less but is the satisfaction the same? A first copy Chanel handbag or a pirated movie print?
When we do not settle for anything less in luxury, which in many cases is not even an investment, why resolve for duplicates/ copies in art?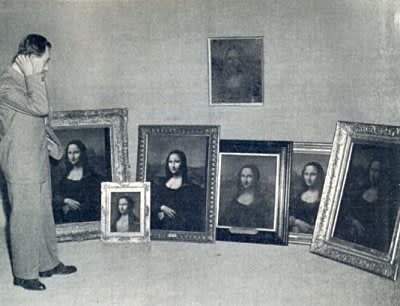 ---
20 years ago, 2 major auction houses, Christies and Sotheby's offered the same painting of a vase of lilacs titled "Vase de Fleurs" by artist Paul Gauguin for their respective auctions in May 2000. Both the paintings were sent to an expert to identify the original from the copy. Sotheby's painting turned out to be the real one and Christies was a near perfect but FAKE artwork. Sotheby's went forward with the sale and sold the genuine painting for 310,000 dollars in their auction. On further investigation by the FBI, the duplicate painting's sale was traced back to Ely Sakhai, a gallery owner in New York. Further, they uncovered that Sakai purchased genuine but lesser known works of famous artists like Chagal, Paul Klee, Renoir & Gauguin that would attract little attention and got copies made by forgers. Sakai would sell the duplicate work with the original papers and transaction letters which would be enough to convince a buyer. Subsequently, he would sell the original artwork which did not need supporting paperwork as the artwork was an original. Unfortunately, this time the buyer of the duplicate Gauguin work consigned the artwork to Christies at the time Sakai consigned the original artwork to Sotheby's. In 2005 Sakhai pleaded guilty and was fined $12.5 million to collectors who bought from him for selling 11 fake works of art which he sold over a 15-year period and was sentenced to 41 months in prison.
Vase de Fleurs by artist Paul Gauguin
A similar incident took place with a reputed gallery in New Delhi in 2009, where a Paris-based artist came for the inauguration of a show of his works put together by his nephew. On viewing the works closely, the artist discovered that baring few paintings & drawings, all the other works were not created by him and thus were not genuine. The gallery took all the unauthentic works down.
Copies are usually made for artists whose works' valuation is high. With prices of art skyrocketing in India, the business of fakes too is getting slicker. The most faked artist in India is probably Jamini Roy followed by Progressive artists like M.F Husain, F.N Souza, S.H.Raza to name a few. According to a Delhi based gallerist, there are around 3,000 fakes of Indian artists made annually. Even if a fraction of that number came in circulation, the market could be disrupted.
"For talented artists, it's easy to fake watercolours produced in the early Bengal School… It is also easy to copy flat colours, like the strong lines in some of Husainsaab's works," says Delhi-based artist Anjolie Ela Menon.
According to critic Ina Puri "Buyers needs to be informed and educated and use their discretion," before buying art.
Ashish Anand of Delhi Art Gallery recommends the formation of a regulatory authority to address concerns regarding the sale of fake artworks. "It should operate like SEBI or the Indian medical council, allowing the pursuit of fair business practices that monitor interests of the consumer within a framework that is just and fair," he says.
Art & Beyond's advice for purchasing an original artwork
Provenance
Once a work of art enters the secondary market, one of the main factors determining the authenticity and price of the artwork is its provenance. Simply put, the history of ownership for a particularly valuable object is called provenance. The reputation and brand of the owner of a painting are as important in the market as the work itself. Ideally, one must have an unbroken chain of owners for an artwork starting from the artist to the current seller. A great provenance such as a museum, a highly reputed gallery or an esteemed art collector can fetch a higher price in private and public sales. For example, a collector such as Charles Saatchi can increase the value of an artwork just by adding it to his collection and selling it thereafter. Having said that, provenance is an important supporting article and not a guaranteed source of authenticity. Further investigation is ought to be done before buying an artwork.
Publication/Exposure
Publication and documentation are an imperative part of the art world and an artwork's authenticity. An artwork being a part of an artist's catalogue raisonné is an undisputed proof of its genuineness. A catalogue raisonné is a comprehensive listing of all the known works of an artist. However, catalogue raisonnés are not commonly published for Indian artists due to the lack of documentation & record-keeping thus artworks published in esteemed articles, museum & gallery catalogues should be considered.
Gallery/ Dealer Reputation
Investing in a good work of art is important however the source from where the artwork is coming is even more essential. The reputation of a gallery/ dealer is of extreme paramount before buying an art piece. The history, background, knowledge, reputation and education of an individual in the art field should be taken into consideration.
Condition
Like every tangible object, art also deteriorates with time. This is a known and accepted fact in the art world. Some amount of wear & tear and prior restoration is expected with moderns and masters. The difference between a good and excellent condition rating for an artwork might make a difference of 15 to 20 per cent in the value of an artwork.
Medium
The medium of an artwork makes a huge difference to the value of an artwork. Before purchasing a work one should consider the medium of the work. Different mediums commonly used are oil paints, watercolours, gouache, graphite pencils, charcoal and pastels. Every artist has a medium that they master in and that fetches a better value than their other works.
Year
Every artist has a peak in their career when they produce their best works. It may be a particular era, a particular subject or a particular medium. Artist Maqbool Fida Husain is known for his Horses and Mother Teressa series. On the other hand, artist Krishen Khanna is famous for his band series which he created in the later half of his life.
Artists Signature
Artworks are mostly signed and dated by the artist on the front or back of the artwork. A signature signifies that the work is complete and is satisfactory to the artist. An artist's signature is imperative to authenticating an artwork. The writing, flow and word formations in an artist's signature help art restorers and gallerists to analyze the geniuses of the artwork.
Does this intimidate you?
Here is why you should buy from Art & Beyond
95% artworks in the A&B inventory are bought from the primary market i.e directly from the artist, thus eliminating the risk of duplicates. The remaining 5% artworks are bought from major auction houses with proper documentation and publication.

Unlike the majority of the galleries that take artworks on only a consignment basis, A&B invests in their artists. 99% artworks in the A&B inventory are owned by the company. We invest in all our artists and their works, believing in their potential and growth.

The founders of A&B Saanya & Shriya Anand hold specialized degrees in art and its market from international universities and programs giving A&B a leverage over other galleries and companies.

The founders of A&B have been in and around the art industry from a very young age. Their exposure, connections and associations with artists, gallerists, restorers, auction houses and collectors give them an advantage.
References:
1. Thompson, D., 2012. The $12 Million Stuffed Shark: The Curious Economics Of Contemporary Art. 2nd ed. United Kingdom: Quarto UK.
2. Findlay, M., 2014. The Value Of Art. 2nd ed. New York: Prestel USA.
3. Nytimes.com. 2020. Art Gallery Owner Pleads Guilty In Forgery Found By Coincidence. [online] Available at: <https://www.nytimes.com/2004/12/14/nyregion/art-gallery-owner-pleads-guilty-in-forgery-found-by-coincidence.html https://www.researchgate.net/publication/51797088_Art_and_Authenticity_The_Importance_of_Originals_in_Judgments_of_Value https://economictimes.indiatimes.com/magazines/panache/picasso-gauguin-modigliani-when-fake-artworks-made-as-much-news-as-the-originals/articleshow/71272582.cms https://indianexpress.com/article/lifestyle/two-coats-of-paint-welcome-to-the-dark-world-of-art-fakes/> [Accessed 1 July 2020].
4. The Indian Express. 2020. Two Coats Of Paint: Welcome To The Dark World Of Art Fakes. [online] Available at: <https://indianexpress.com/article/lifestyle/two-coats-of-paint-welcome-to-the-dark-world-of-art-fakes/> [Accessed 24 June 2020].
5. The Economic Times. 2019. Picasso, Gauguin, Modigliani: When Fake Artworks Made As Much News As The Originals. [online] Available at: <https://economictimes.indiatimes.com/magazines/panache/picasso-gauguin-modigliani-when-fake-artworks-made-as-much-news-as-the-originals/articleshow/71272582.cms> [Accessed 1 July 2020].
6. Newman, G. and Bloom, P., 2011. Art and authenticity: The importance of originals in judgments of value. Journal of Experimental Psychology: General, 141(3), pp.558-569.
7. Preston, J., 2004. Art Gallery Owner Pleads Guilty In Forgery Found by Coincidence. The New York Times, [online] p.Page 2 of the National edition. Available at: <https://www.nytimes.com/2004/12/14/nyregion/art-gallery-owner-pleads-guilty-in-forgery-found-by-coincidence.html> [Accessed 10 June 2020].
8. Commons.wikimedia.org. n.d. File:Paul Gauguin Vaso Di Fiori, 1896.Jpg - Wikimedia Commons. [online] Available at: <https://commons.wikimedia.org/wiki/File:Paul_Gauguin_vaso_di_fiori,_1896.jpg> [Accessed 10 May 2020].